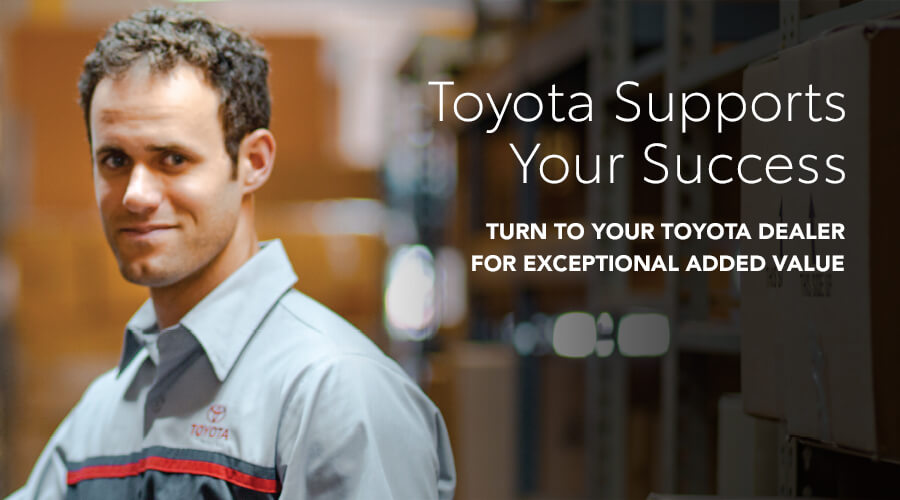 Toyota Supports Your Success
TURN TO YOUR TOYOTA DEALER FOR EXCEPTIONAL ADDED VALUE
YOU KNOW THAT SOURCING TOYOTA GENUINE PARTS FROM YOUR TOYOTA DEALER OFFERS YOU THE BEST PART AVAILABLE, EXCELLENT FILL RATES AND INCREASED PROFIT. But did you know that your Toyota dealer partner has even more to offer? From access to the best supply-chain management tools in the industry to exclusive discounts on select parts, your Toyota dealer makes it better and easier than ever to keep your customer's Toyota a Toyota.
BENEFIT FROM TOYOTA'S PREMIER SERVICES
Toyota dealers are committed to fostering excellent relationships with Independent Repair Facilities (IRFs). After all, we have a common goal: ensuring the safety, confidence and satisfaction of every Toyota owner. An important part of that commitment is providing systems and support that enhance your business success and your customer's satisfaction. When you do business with a participating Toyota dealer, you can benefit from these premier services:
OPS TECHNOLOGY SUITE™
This powerful collision supply-chain management solution can help enhance relationships, reduce costs and fuel employee productivity by getting you the right part the first time, at the right price. Features include Trax, an online collision parts ordering system; ValueTrax, which offers Toyota-sponsored discounts on Toyota Genuine Parts; and, DeliveryTrax, a real-time delivery tracking tool. Through OPS TraxPod, your Toyota dealer can send you order status tracking, delivery notifications and deal/discount notifications.
TOYOTA TECHNICAL INFORMATION SYSTEM (TIS)
If your Toyota dealer is a STAR Elite Dealer, you may be provided a complimentary subscription to Toyota's TIS, which will give you access to the most up-to-date technical information on 1990 or later Toyota, Lexus and Scion vehicles marketed in the U.S. TIS also includes service bulletins, repair manuals, wiring diagrams and technical training, as well as a safety recall and service campaign VIN lookup tool, putting the vital information you need to effectively service Toyota vehicles at your fingertips.
NEW! TOYOTA MECHANICAL PARTS PROGRAM (TMPP) POWERED BY REPAIRLINK®
TMPP incorporates Toyota-sponsored competitive discounts with the industry's most widely used OE mechanical parts fulfillment solution. Through TMPP, you can place mechanical parts orders online at any time. With features like VIN filtering and illustrations like those in the Electronic Parts Catalog (EPC), you'll enjoy improved order accuracy, minimized phone time and increased efficiency in addition to exclusive Toyota-sponsored discounts.
TOYOTA COLLISION REPAIR & REFINISH TRAINING
Your Toyota dealership's Wholesale Parts Manager is the key to getting your technicians into Toyota Collision Repair & Refinish Training. Toyota training can help increase your shop's efficiency and customer satisfaction. As a technician at an independent collision repair facility, you can only attend Toyota Collision Repair & Refinish Training courses if you're sponsored by a Toyota dealership, so building that relationship is essential! Sponsored technicians are eligible to take courses at Toyota training facilities in Plano, TX, West Caldwell, NJ, and Jacksonville, FL. For more information go to crrtraining.com.
IT JUST MAKES GOOD BUSINESS SENSE!
More than ever, ordering Toyota Genuine Parts from your Toyota dealer just makes sense. If you can't get the part you need today, you can get it tomorrow. That applies to any Toyota Genuine Part. Tap into the expertise of your Toyota dealership's wholesale parts professional to ensure that your order includes the correct replacement part and also all of the ancillary parts needed to complete the job. From systems and support to troubleshooting and proper guidance, your Toyota dealer is your best resource for Toyota Genuine Parts.
AND, THERE'S MORE here on dev.toyotapartsandservice.com, where you'll find Toyota Genuine Parts product information, application charts, videos and a library of industry articles.