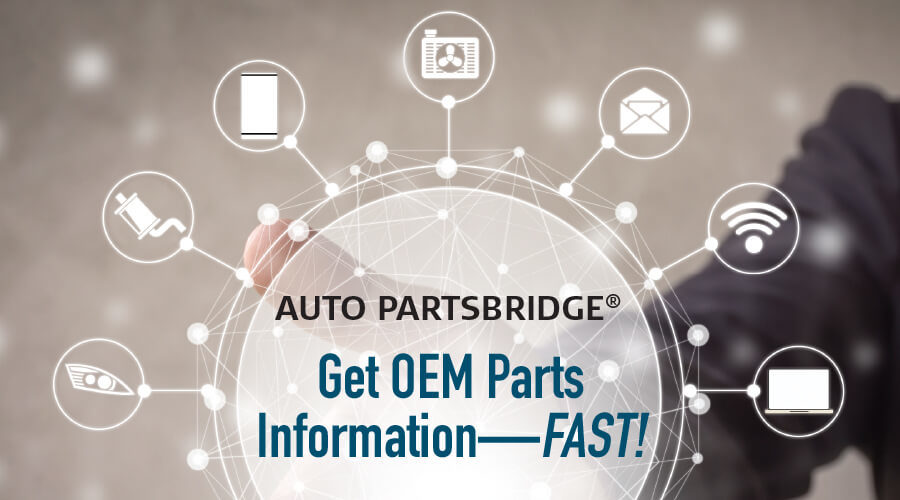 AUTO PARTSBRIDGE® Get OEM Parts Information—FAST!
AUTO PARTSBRIDGE® Get OEM Parts Information—FAST!
AUTO PARTSBRIDGE CONTINUES TO RAISE THE BENCHMARK IN PARTS ORDERING by recently adding new features, such as providing access to more Toyota content including parts photos and parts repair bulletins as well as bringing Toyota data directly to the shop through the program. And as part of Toyota's dedication to continuous improvement, two enhancements have been made for a more user-friendly experience.
UNIVERSAL SUPPLEMENT HANDLING—EASIER, FASTER, LESS RISK
Supplement handling can be completed in a snap! Auto PartsBridge can now match your internal process. Simply submit your supplements in the same way you typically process orders. Whether it's submitted electronically, by fax, via email, a committed estimate or running parts list, it's built to fi t your business model.
DEALER-INITIATED ORDERING—LET THE DEALER PLACE THE ORDER FOR YOU
Dealer-initiated ordering eliminates the "hiccups" that shops sometimes experience with electronic ordering. Fact is, electronic ordering offers a lot of benefits, yet some shops may find it just doesn't fi t in with their internal processes. Auto PartsBridge has changed all that! Now the dealer can initiate an order on your behalf, so you don't have to worry about software challenges.
HOW DEALER-INITIATED ORDERING WORKS
The shop sends the estimate or the estimate number to the dealer, and the dealer takes it from there, introducing the data to Auto PartsBridge on behalf of the shop. The shop gets to take full advantage of Auto PartsBridge, including automatic part number verification to eliminate incorrect parts and better communication between shops and dealers, improved visibility of parts data from
the dealership, and access to the Genuine Toyota Parts Catalog for difficult-to-find parts. Point, click, access the OEM information
you need—that's what Auto PartsBridge is all about. For more information on Auto PartsBridge or any of these new features, please call Customer Support at 888-929-5599 or visit www.autopartsbridge.com.
With Auto PartsBridge, you have a one-stop, easy-to-use online parts ordering system at your fingertips:
Access to price matching for OEM parts
Availability to the same parts information that the dealer has, including illustrations, VIN-based parts validation and look up, not to mention exact part identification
Auto PartsBridge is a registered trademark of Infomedia Ltd., used with permission.