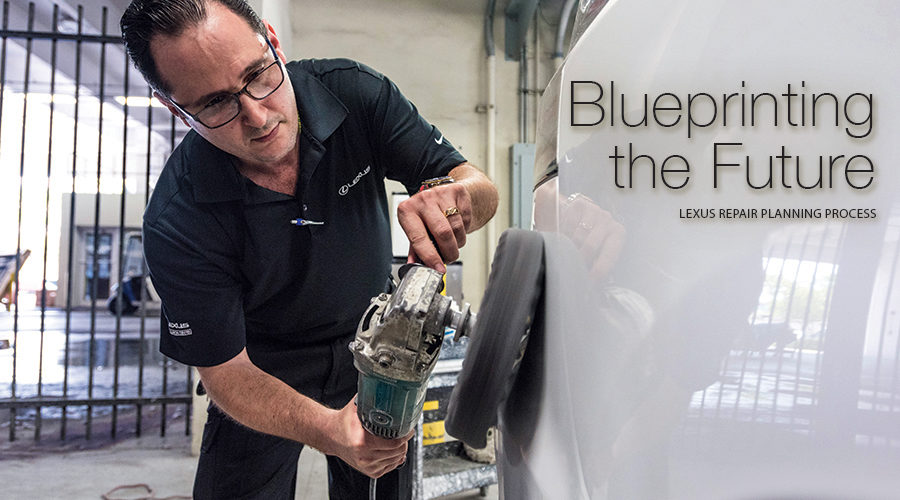 Blueprinting the Future
LEXUS REPAIR PLANNING PROCESS
FURTHER CEMENTING LEXUS AS A LEADER IN BRAND RECOGNITION AND LOYALTY, the Lexus Repair Planning Process represents the future and your opportunity to help establish industry leadership in collision repair. Industry leadership, customer satisfaction and continuous improvement were the driving factors behind the initial rollout and validation of the Lexus Repair Planning Process.
"When developing the Lexus Repair Planning Process, our goal was to establish leadership in collision repair not only from the dealer level, but also at the corporate level," said Launce Bennett, a Senior Analyst for Lexus. "That's why we've put so much effort into the Lexus Repair Planning Process."
The plan is a case study in continuous improvement. Every step of the repair process was broken down, analyzed and refined to create the most efficient and profitable business model in the industry today.
"Because Lexus has such a high manufacturing standard, coupled with equally high customer expectations, we knew developing a finely tuned repair process was paramount," said Mike Anderson, acclaimed collision consultant and Accredited Automotive Manager (AAM). "So far, Toyota and Lexus are the only manufacturers who have asked for help from industry experts in developing a standardized, exclusive repair planning process, and the results have been very impressive."
Just like the development of a new vehicle, the Lexus Planning Repair Process was tested and validated before it was introduced. Lexus of Pembroke Pines agreed to be the first to test the process, which required a commitment from the entire team.
"We were skeptical at first," said Brian Martin, Director of Auto Collision at Lexus of Pembroke Pines and Lexus of Miami. "People resist change, but we had a lot of faith in Mike, and we had a clear commitment from the top. Our GM, Craig Zinn was not only willing to make the financial commitment, he was able to see the value of the process, and what that meant to the future of the dealership."
Anderson and his crew started with a one-day assessment, working with Martin and his staff to establish a baseline, and to get a feel for the culture of the shop. Shortly after that meeting, Anderson and his crew returned, and they put the entire shop through an intense, two-day "boot camp" that touched every aspect of the shop, and every employee.
"After adopting this process, we were amazed at just how much more profit you can get from the same shop volume." 
— Brian Martin Director of Auto Collision Lexus of Pembroke Pines and Lexus of Miami
"We focus on four key issues," Anderson said. "One is scheduling, two is reducing administrative bottlenecks, three is Blueprinting which includes a true, 100 percent disassembly to identify all items needed up front, and four is getting the right part the first time."
The Blueprinting component is about more than disassembly, it's also about researching and understanding the specifics of the OEM process, knowing exactly what can be reused, and what must be replaced.
Process change at this level is a big deal, and nothing this worthwhile is ever easy.
But Martin and his team stuck to the plan, embracing the change from top to bottom.
"The biggest challenge was finding out what 100 percent disassembly really meant," Martin noted, "but the best part was finally seeing exactly what we were leaving off the estimate, and clearly seeing the profit we were losing."
"After just a of couple months, supplements are down, cycle times are down, and we are seeing improvements in the Customer Satisfaction Index (CSI)," Martin said. "Yes, we are seeing an increase in profit, but it's much more than that," he stressed. "The real dividends come from the improvement in work flow, the elimination of stress and less frustration with parts ordering. It's a more efficient process that positively impacts the culture of the shop."
Embracing the Lexus Repair Planning Process requires a daily commitment from every employee. "After adopting this process, we were amazed at just how much more profit you can get from the same shop volume," Martin stated.
Prior to adopting the process, the Pembroke Pines and Miami shops were performing quite well.
"A lot of shops don't think they are doing anything wrong." said Anderson, "But it's not an issue of fixing something that's broken, instead it's a commitment to excellence and continuous improvement."
Often, it's little things that make the biggest difference. "By simply asking our parts people to double check all parts on arrival, we avoid part delays, frustration, the back and forth and all that un-billable time," Martin points out. "All in all, we've experienced shorter cycle times, reduced supplements, increased touch time, improved customer and employee satisfaction and greater shop efficiency."
Much more than an exercise in increased profit, the Lexus Repair Planning Process is a demonstration of Lexus discipline: a rare opportunity to raise the bar and firmly establish industry leadership in collision repair. If you're ready to make the commitment, contact your paint supplier or an industry expert to arrange an in-depth consultation that will help your shop push profits and customer satisfaction to the next level.
NEED MORE INFORMATION?
For more on Collision Repair, visit the Collision Repair and Refinishing Training website, www.crrtraining.com.
You can also visit Mike Anderson's site, http://www.CollisionAdvice.com for helpful videos, links and collision advice.