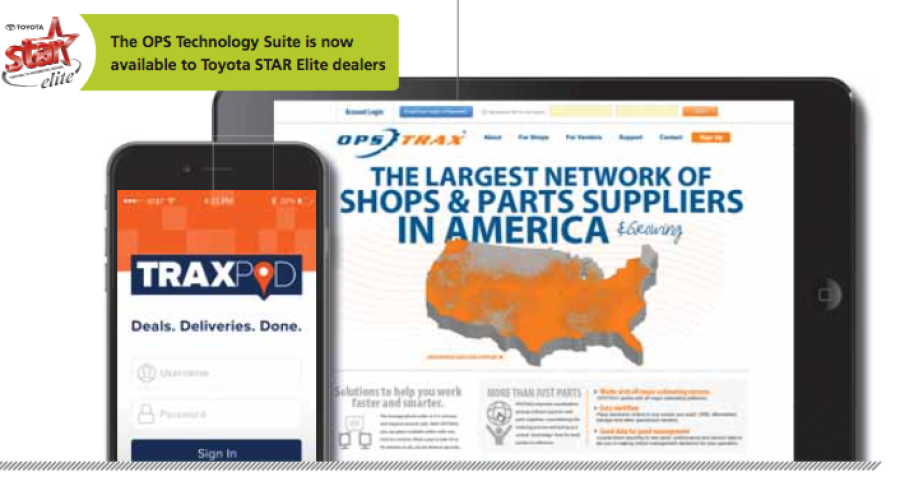 OPS — Improving Parts Procurement, Pricing and Delivery
Recently, Toyota announced that it is supporting a new shop management software suite from Overall Parts Solutions (OPS) that is designed to help improve ordering, management and delivery of Genuine Toyota Parts. The OPS Technology Suite is now available to Toyota STAR Elite dealers. Quick, easy access to Genuine Toyota Parts is an important part of helping produce satisfied customers, high-quality work and greater profits.
"Offering the OPS Technology Suite to our dealerships is an important step in fulfilling our commitment to provide tools to our dealerships that give them a competitive edge. Not only will our dealers' parts department be able to take advantage of cutting-edge technology in parts ordering and delivery distribution, they will be able to pass along better efficiency and generate savings for their collision shop customers," says Jeff Hilton, Wholesale Parts & Collision Manager, Toyota Motor Sales, U.S.A., Inc.
In today's collision repair environment, having control over the procurement and delivery of parts can help give you an important competitive advantage. OPS helps track purchased parts from the time they are ordered to the moment they are delivered. OPS can also help identify disruptions to the shop's supply chain. Finally, OPS can help create greater efficiencies within a collision center's ordering processes by reducing phone calls, which can save time and free up staff to concentrate on other important tasks.
Buy Genuine
Cost and availability can sometimes be barriers to collision centers using Genuine Toyota Parts. The OPS Technology Suite reduces these issues by offering competitive pricing on Genuine Parts as well as exclusive deals and discounts. OPS also provides the framework for a uniform purchasing process for both dealers and collision centers. This helps ensure consistency and continuity, enabling dealers to deliver the parts as quickly as possible to collision centers. A quality parts purchasing process can help to improve the cycle time and efficiency of collision centers and can help dealerships sell more parts.
Using Genuine Toyota Parts during a collision repair helps ensure that customers' cars are returned to the original factory standard and meet all original criteria for safety and appearance. The result is a high-quality repair and a satisfied customer.
The OPS Technology Suite is compatible with most major estimating and management systems. The program is already available to Lexus dealerships. For more information about the OPS Technology Suite, visit www.OPSTRAX.com.
The OPS Technology Suite
The OPS Technology Suite combines several tools to help dealerships streamline their wholesale parts business. The tools are designed to assist with procurement, competitive pricing and delivery of Genuine Toyota Parts. The suite consists of the following components.
OPSTRAX—a parts procurement and communication tool between dealers and collision centers. OPSTRAX gives collision centers the ability to submit and track parts orders electronically and it allows dealerships to view all orders electronically through a centralized location.
VALUTRAX—allows parts departments to offer original equipment manufacturer parts at competitive prices.
DELIVERYTRAX—makes parts delivery logistics a breeze. DELIVERYTRAX provides electronic driver dispatching, live-tracking and accountability for wholesale logistics operations.
TRAXPOD—stay connected with your customer using this handy feature. TRAXPOD provides delivery notifications, deals and discounts, all sent directly to your customer's computer desktop.
Additional features include:
Real-time reporting and statistics
Instantly view purchasing trends and benchmarks
Helps improves communication between collision centers and dealerships