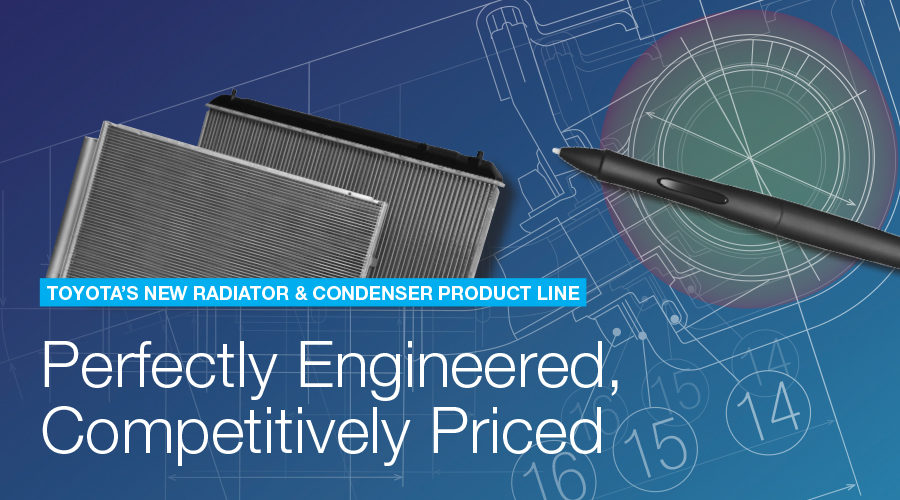 Perfectly Engineered, Competitively Priced
Perfectly Engineered, Competitively Priced
Toyota's New Radiator and Condenser Product Line
WHERE HIGH QUALITY AND COMPETITIVE PRICING MEET
Thanks to a competitive pricing structure, precision engineering, and a great warranty, the new Radiator and Condenser Product Line is a hit with mechanical and collision repair shops, vehicle owners, and insurance adjusters.
"It used to be that Toyota OEM Radiators and Condensers weren't an option in the collision repair budget set by the insurance companies; you had to use an aftermarket part," explains Matt Goldstein, Parts Manager at Dayton Toyota in Dayton, New Jersey. "Now, the new product line easily fits into the insurance budget, so we can offer customers the option to use OEM Toyota parts which offer superior quality and precise fit."
IT'S THE DETAILS THAT MATTER
From the beginning, the new Radiator and Condenser Product Line was manufactured following Toyota's exact engineering standards, ensuring the highest quality at every step. Using Toyota's original engineering specifications, the team developed products that perfectly fit Toyota vehicles.
THE VALUE
"My wholesale customers are very impressed with the fit and the price of the new product line," says Tony Bryan, Wholesale Parts Manager at Yokem Toyota in Shreveport, Louisiana. "Many aftermarket parts just don't fit," he continues. "The new line provides superior quality, an exact fit and is competitive with aftermarket prices. Our customers get peace of mind knowing that their Toyota is repaired with the same quality parts that made them choose a Toyota in the first place."
THE FIT
"Precision engineering means parts drop right into place—shops don't have to make any adjustments or need to use any brackets or extra parts to make these components fit, saving time, and time means money" says Eric Mendoza, Manager, Toyota Motor North America, Wholesale Parts & Certified Collision.
THE PERFORMANCE
The new product line endured extensive performance and product strength testing and the packaging was tested for moisture absorption and box durability to ensure protection from damage during shipping. Finally, before coming to market, the product line was subjected to a series of demanding product performance evaluations which confirmed the line met Toyota's high standards.
The end result—a new Radiator and Condenser Product Line, designed, tested and approved by Toyota, and brought to market at prices competitive with aftermarket prices.