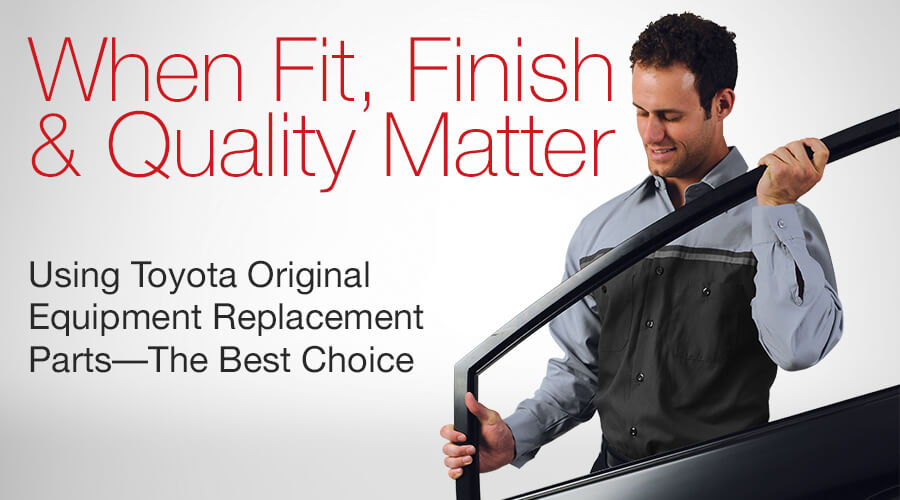 When Fit, Finish, and Quality Matters
WHY AND WHEN DO FIT, FINISH AND QUALITY MATTER? They matter when your customers bring their vehicle to your shop for collision repair and they look to you to provide advice along with reliable parts and quality repair. When you offer your customer Genuine Toyota Parts rather than aftermarket, used or reconditioned parts you are ensuring that their vehicle is repaired back to Toyota's stringent quality control specifications, keeping their Toyota a Toyota. Toyota understands that the repairer is in a predicament when working with their customers' insurance companies. It's the insurer's job to keep costs down, so when aftermarket, used or reconditioned parts are available, the insurance company may tell your shop to use less costly parts in lieu of Original Equipment Manufacturer (OEM) parts. Unfortunately, using aftermarket, used or reconditioned parts can cause issues later with fit, finish, quality, durability and ultimately, customer satisfaction.
IT'S NOT JUST TOYOTA'S OPINION
"Most customers don't know that their insurance company can authorize the use of aftermarket, salvage or remanufactured parts, and they also don't know how that aftermarket part may affect their Toyota's performance, safety and warranty," says Jay Cassel, Manager at Bennett Collision Center, in Allentown, Pennsylvania.
THOROUGH ESTIMATES
"We understand the complicated relationship that exists between customers and insurance companies, and Toyota has taken steps to increase the use of Genuine Toyota parts," says Eric Mendoza, Toyota Motor North America, Wholesale Parts & Certified Collision. "Using a program like Auto PartsBridge can help shops get OE parts at more competitive prices." Mendoza notes that tools such as Auto PartsBridge send the estimate to dealership parts experts who can spot the updated parts, missing clips, and fasteners needed to complete the repair at the beginning. You normally don't get paid for all of the additional parts because you don't know you need them. A more thorough estimate, however, can help reduce supplements and most importantly save time. "From Toyota's engineers to our collision repair trainers' perspective, there's no substitute for Toyota quality, and that includes using Genuine Toyota Parts and our approved collision repair techniques," Mendoza adds, "Anything less would compromise the integrity of the Toyota product."
INFORMED CONSENT
The fact is, more than 50% of collision repair business is word of mouth, and many of those customers are return customers. So, it's worth the effort to build relationships with your customers and the insurance appraisers, and to make sure everyone understands the value of Toyota Genuine Parts. Cassel advises that the first step is to close the communication gap. "My estimators call their customers to make them aware of their coverage—and if that includes aftermarket or used parts. The customer may assume new OEM parts are being used when they are not covered. If the consumer wants to use new OEM parts anyway, we'll work with them to ensure the vehicle is repaired to their satisfaction," adds Cassel.
The customer may assume new OEM parts are being used when they are not covered. If the consumer wants to use new OEM parts anyway, we'll work with them to ensure the vehicle is repaired to their satisfaction," —Jay Cassel Manager, Bennet Collision Center, Allentown, PA
"If you read the fine print, many insurance policies allow the use of aftermarket and/or used parts, and most customers are unaware of this stipulation. It's worthwhile to have customers read their policies and understand the limitations and disclosures to ensure they understand both before beginning any repairs," says Cassel. While some states have insurance departments that theoretically oversee the replacement-part practices of car insurance companies, only a handful have consent or disclosure laws regarding the use of aftermarket parts. If a state doesn't have either, it may be in your best interest to create your own disclosure statement.
"We also build relationships with insurance appraisers to gain their trust," says Cassel. "That trust goes a long way, especially when you consider that most of your collision repairs are approved by insurance companies. We can spend a lot of time negotiating with insurance appraisers, filing parts, matching orders, and going back and forth with the customer," Cassel continues, "but we're committed to always delivering quality repairs that meet Toyota standards."
As a collision repair shop, you're an advocate for your customers with a goal to repair the vehicle properly. To help you, Toyota provides training at its four training centers, including repair bulletins, training materials, and repair processes. Moreover, training isn't just for technicians, it's also for estimators and shop managers.
Be sure to check us out on Facebook as well as our collision repair and refinish website at www.crrtraining.com; there you can enroll in classes, download Collision Pros magazine, get the latest Toyota Collision repair bulletins and so much more.