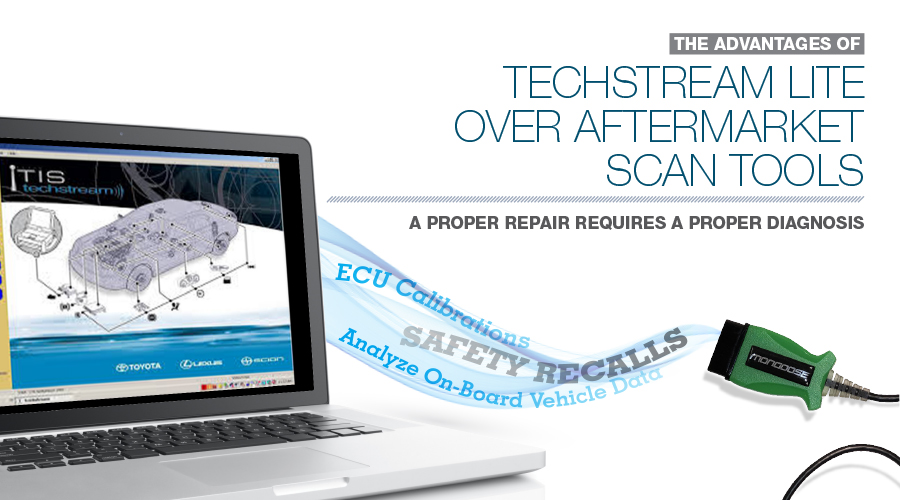 Collision Pros Magazine
2020 | ISSUE 01
THE ADVANTAGES OF TECHSTREAM LITE OVER AFTERMARKET SCAN TOOLS
A PROPER REPAIR REQUIRES A PROPER DIAGNOSIS
WHEN REPAIRING A TOYOTA, LEXUS OR SCION VEHICLE, TECHSTREAM LITE HELPS TO ENSURE THAT YOU'RE RECEIVING ORIGINAL EQUIPMENT MANUFACTURER (OEM)-DEVELOPED DIAGNOSTIC DATA. Users will find Toyota's Techstream Lite to be a convenient and cost-effective way to get the most current data on 1996 and later Toyota, Lexus, and Scion vehicles marketed in North America. An active professional level subscription is required to use Techstream software.
Updated quarterly, Techstream software helps to ensure your technicians have the most current information available. It provides additional advantages by integrating functionality between the diagnostic software and Toyota's Technical Information System (TIS). With an internet connection, the diagnostic software passes vehicle data directly to TIS for real time service information. Users can search for applicable safety recalls, TSBs, ECU calibrations, and diagnostic and repair procedures; view and analyze on-board vehicle data; and even re-program Toyota, Lexus, and Scion vehicles.
Techstream Diagnostics are more affordable with Techstream Lite because the same software capabilities are leveraged with a Toyota specific Vehicle Interface Module (VIM). Everything is designed to run on your existing PC. The Techstream Lite kit includes: Techstream Diagnostic Software, the MongoosePRO MFC2 VIM interface cable and a one-year professional subscription to TIS. The subscription includes:
Techstream Diagnostic Software
Library Access (repair manuals, wiring diagrams, etc.)
ECU Reprogramming calibrations, and much more
To help guarantee that you're getting the most current information to properly service Toyota, Lexus and Scion vehicles, rely on Techstream Lite. Visit https://techinfo.toyota.com for additional details.