2019 Corolla Hatchback New Model Technical Preview
Road Sign Assist
The Road Sign Assist function will use the Forward Recognition Camera to identify common road signs and display them in the MID and Head-Up Display (if equipped).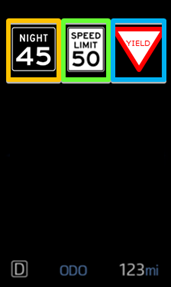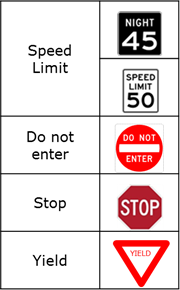 Blind Spot Monitor is also introduced for 2019 Corolla HB. The Blind Spot Monitor system operates like other equipped Toyota models but does not include RCTA.
Telematics
As a part of Entune 3.0, Corolla HB is now equipped with the 17CY Multimedia system including Safety Connect, and on higher grades it also includes Remote Connect and Service Connect as well as Wi-Fi Connect and Destination Assist Connect features. Please refer to eLearning module TEH017C for more details.
New features to the 17CY multimedia systems on 2019 Avalon and Corolla HB include:
Apple CarPlay
CarPlay is an Apple standard that enables your vehicle's multimedia system to display and act as a controller for an iPhone. CarPlay takes the things you want to do with your iPhone while driving and puts them right on your vehicle's built-in display. You can get directions, make calls, send and receive messages, and listen to music, all in a way that allows you to stay focused on the road.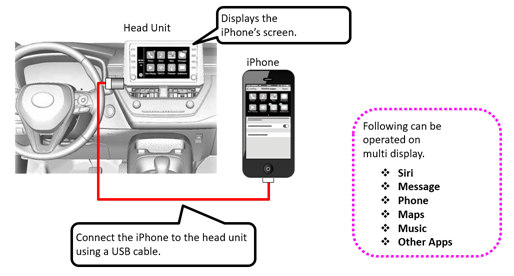 Apple CarPlay is available on all iPhone 5 and later with at least iOS 7.1. CarPlay is operated by the vehicle multimedia system through a USB connection to the phone.
Amazon Alexa
Amazon Alexa is a part of Remote Connect services available from App Suite Connect.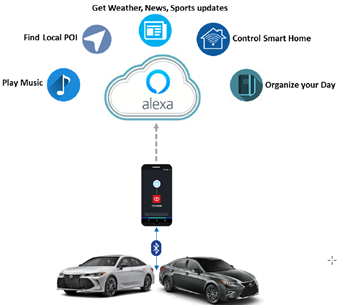 Some of the key Alexa capabilities are:
Play music: Alexa has integration with music services such as Amazon Music, iHeart Radio, TuneIn and SiriusXM among others.
Integrates with navigation: Alexa integrates with Scout GPS Link mobile app or Dynamic Navigation to guide guests to their desired POIs.
Get news and weather updates: Alexa can update users on the weather, hear news, keep up with their favorite sport teams, track stocks, etc.
Smart Home control: Alexa has skills to access smart home devices, allowing users to manage lights, thermostats, door locks and more.
Daily Organizer: Alexa can help organize your day, create shopping or to-do lists.
Setting up Alexa
Download and install Remote Connect App Suite from the Google Play App store
Install Toyota + Alexa App via App Suite Connect Catalog Page
Open Toyota + Alexa and log in with your Amazon Credentials
Pair handset to vehicle via Bluetooth and enable Toyota + Alexa to be used via App Suite
Methods to activate Alexa for use.
Say the wake word
Push to talk button on steering wheel
Press the icon within the Alexa App on the head unit
Remote Connect Smartwatch
This is based on Toyota Remote Connect (TRC) and all TRC compatible vehicles support this functionality. Functionality: remote commands (remote start on automatic transaxle models, door lock/unlock), Vehicle Finder (See the location of your vehicle relative to your location), Vehicle Status (door open/close or window open/close).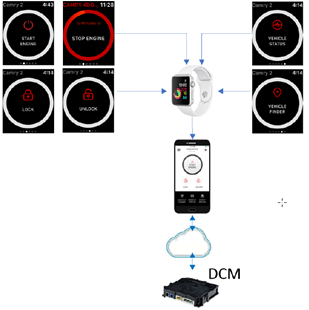 Toyota Remote Connect must be run on either an Apple Watch for iPhones or a WearOS (formerly Android Wear) Smartwatch for Android phones.
There is no compatibility with other smartwatch operating systems (FitBit, Garmin, Samsung Wear, etc.) Pairing requirements are the same for smartwatches with and without standalone LTE capabilities.