2019 Corolla Hatchback New Model Technical Preview
For 2019 Corolla Hatchback is all new, shedding the iM moniker to reinvent itself completely from its Scion origin and fall in with the ever-popular Corolla brand.
This vehicle is getting a full overhaul onto the TNGA platform giving it greater performance from its Dynamic Force M20A-FKS 2.0L engine in front of an EG60 manual transaxle or K120 Continuously Variable Transaxle. Other highlights of the 2019 Corolla Hatchback include Toyota Safety Sense 2.0, Electric Parking Brake, Intelligent AFS, 6 network busses, and updated audio system with Apple CarPlay and Wi-Fi hotspot.

TNGA Platform Innovates
TNGA or Toyota New Global Architecture is the new buzz around Toyota, but what does it mean? It is an architecture for building a vehicle on a platform. This allows quicker changes in manufacturing, consistent performance and feel across models within the brand promoting core strength and emphasized personality of the vehicles in our lineup. The common core technical components involved with TNGA are suspension, powertrain including the new Dynamic Force Engines, hybrid system and air conditioning. The use of Laser Screw welding makes the platform body more rigid improving ride quality and safety.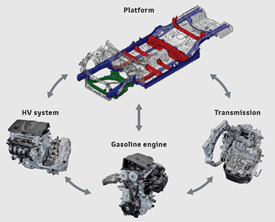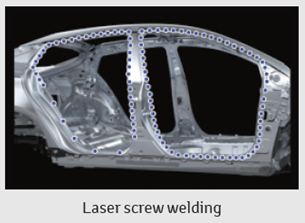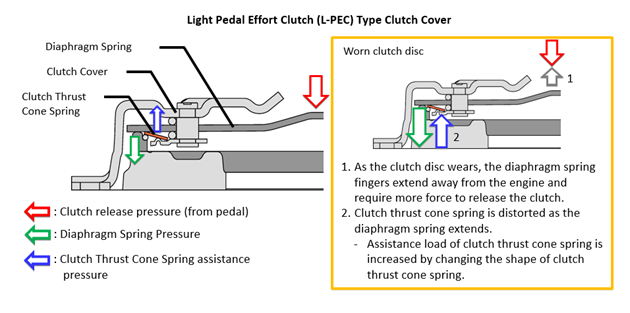 TNGA Suspension
Newly developed trailing wishbone rear suspensions replace torsion beam rear axles on the previous model to achieve excellent handling stability and ride comfort.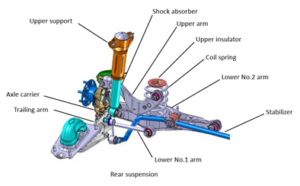 New TPWS sensors
New two-piece Tire Pressure Warning System (TPWS) sensors are introduced on the Corolla HB with aluminum wheel options, allowing for separate replacement of tire valve stem and sensor.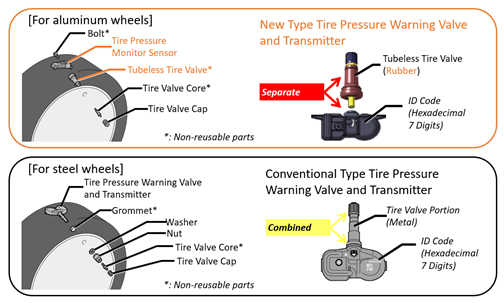 The new TPWS sensors can be removed by removing the bolt and sensor from the tire valve, then cutting the valve and pulling it through the outer side of the wheel like a common tire valve stem without a sensor.


Install the new style TPWS sensor by bolting it to a new tire stem valve and pulling it through from the inside of the wheel.