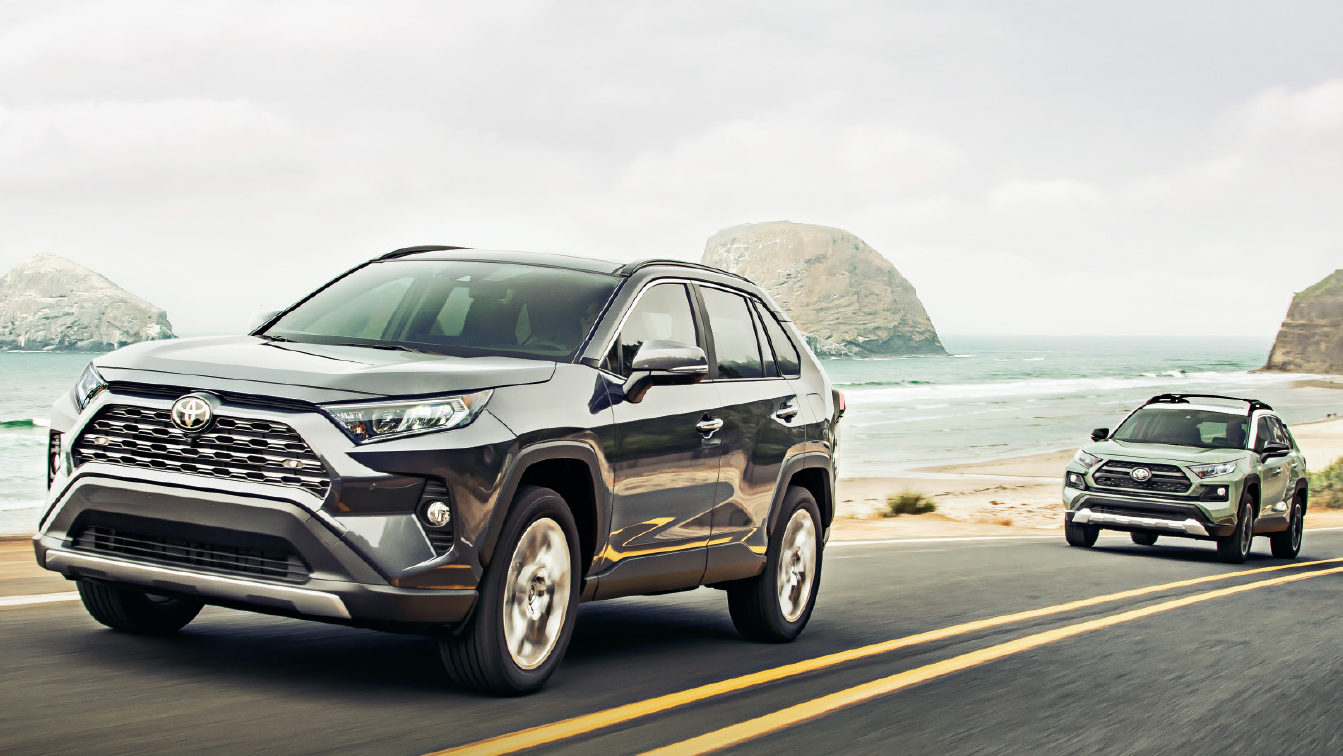 2019 RAV4 New Model Technical Preview
The all-new 2019 RAV4 is getting a full overhaul onto the Toyota New Global Architecture (TNGA) platform.
Greater performance is achieved from its Dynamic Force A25A-FKS 2.5L engine in front of either a UB80E (2WD) or UB80F (AWD) transaxle. Hybrid models sport an A25A-FXS with a P710 transaxle and a new Q610 MGR on AWD models. Other highlights of the 2019 RAV4 include Torque Vectoring AWD, Digital Rear View Mirror, Toyota Safety Sense 2.0, Electric Parking Brake, and an updated audio system with Apple CarPlay and Wi-Fi hotspot.
Lift Points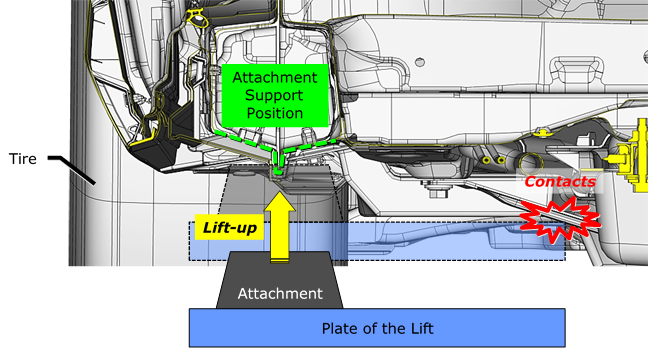 When lifting the RAV4 on a plate type lift, rubber blocks are needed to avoid body contact with the lift. Refer to the Repair Manual for attachment specifications. In TIS, see: General > Introduction > Repair Instruction > Vehicle Lift and Support Locations.
Drivetrain Updates
The RAV4 will get the familiar UB80E for 2WD models and UB80F for AWD options. Hybrid models will get the P710 transaxle. With many different trim levels in both gas and hybrid models, there are several different drivetrain options. It is possible to get either the familiar Dynamic Torque Control AWD (lower grade) or the all new Dynamic Torque Vectoring AWD (higher grade) on gas models. AWD Hybrid models are equipped with Electronic On-Demand AWD with intelligence (AWD-i) with Auto LSD.
AWD Integrated Management (AIM)
Integrated control is performed for the engine, transmission, Electric Power Steering (EPS), AWD and brakes, making it possible to change the logic according to the driving environment.
Dynamic Torque Vectoring All-Wheel Drive
Adventure and Limited grades have the option for Dynamic Torque Vectoring All Wheel Drive (TV-AWD). This system is designed to give torque assistance when starting off, under acceleration and when wheel slip is detected. It also disconnects torque output when it is not needed for better fuel economy. This includes the newly developed GF2A transfer and FD15EF rear differential.

Other RAV4 AWD grades use the earlier GF1A transfer and FD13AE rear differential (same as previous model RAV4 with electromagnetic propeller shaft coupling). Where the earlier system would disconnect the rear differential via the propeller shaft coupling when not needed, the new system disconnects the propeller shaft at each end with a dog clutch and in addition releases the electromagnetic control couplings to the drive axles in the rear differential. This greatly reduces drag on the powertrain. This system is normally connected and will be connected at vehicle start up. Fail safe for this system defaults to front wheel drive.

Due to the design of the dog clutch, the vehicle must move forward to engage both dog clutches. The drivetrain will stay connected in reverse if it is connected when reverse is selected. If reverse is somehow selected while the drivetrain is disconnected, it would stay disconnected in reverse. This system normally takes around 300 milliseconds to connect and around one second to disconnect.

Torque Vectoring All Wheel Drive (TV-AWD) optimizes torque distribution to each rear wheel by applying current to each control coupling independently, eliminating the need for differential gears and optimizing torque application to maintain traction throughout various driving conditions.