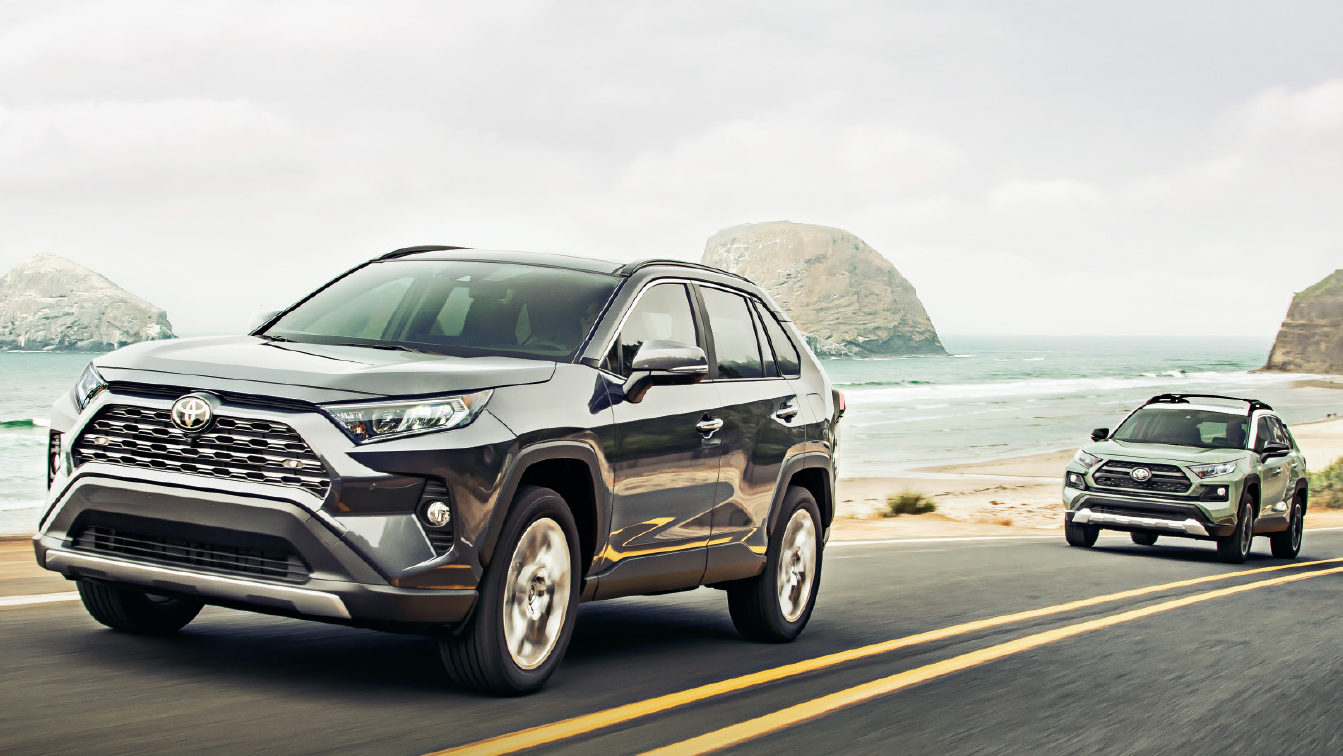 2019 RAV4 New Model Technical Preview
Torque Vectoring AWD Towing Precautions
By default, the TV-AWD system has the drivetrain connected when stopped and the rear-drive axles are always connected to the electromagnetic couplings, even when they are de-energized. Because of this special towing precautions are needed. If the rear axles are left on the ground, there is a possibility of overheating the electromagnetic couplings causing damage to the drivetrain. The vehicle should be towed with all 4 wheels lifted and it should not be Dinghy towed.
It can be towed in an emergency for a limited distance at low speed (as listed below) with all 4 wheels on the ground. It should not ever be towed with two wheels off the ground.


Disconnect System Function Check and AWD Control Prevention Mode
To verify operation of the disconnect mechanisms including solenoids and dog clutches, a Disconnect System Function Check is available in the Utility menu of the Four-Wheel Drive ECU in the Techstream. The utility individually connects and disconnects the front and rear dog clutches. DO NOT drive the vehicle while using this utility or with the drivetrain partially or completely disconnected. Drivetrain components may be damaged.
When putting the vehicle on a chassis dynamometer, speedometer tester or brake tester, AWD Control Prevention Mode must be turned on. Vehicle speed on these devices should be limited and the propeller shaft may need to be removed.

Procedure to turn on "AWD Control Prevention Mode":
Remove the 4WD fuse and enter "4WD Control Prohibited Mode".
Check that "4WD (AWD) TEST MODE" is displayed on the multi-information display. (Check that 4WD control is prohibited)

To deactivate "AWD Control Prevention Mode" simply reinstall the fuse and cancel AWD Control Prevention Mode in the MID.
Additional Service Procedures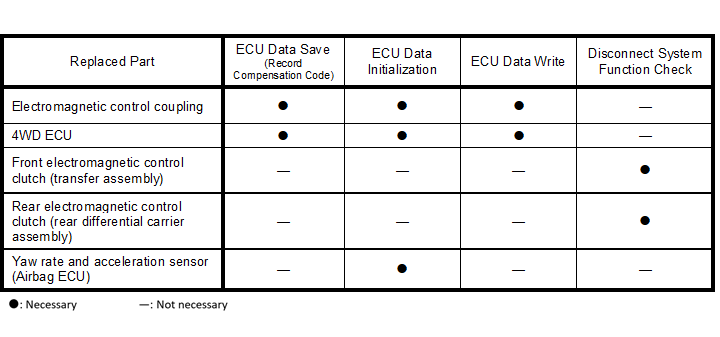 Hybrid Drivetrain
The Predictive Efficient Drive Function uses GPS, traffic and vehicle data to analyze driving patterns, and record specific locations where the driver frequently decelerates and stops. When the driver approaches one of these locations (called a stop/deceleration position), this function assists the driver in decelerating and stopping in an eco-friendly manner.
Demand AWD with intelligence (AWD-i) with Auto LSD
Chassis
Newly developed TNGA trailing wishbone rear suspensions replace torsion beam rear axles on the previous model to achieve excellent handling stability and ride comfort.
TPWS updates
The TPWS system has a new direct sensing system with new features available (first seen on Camry) including automatic sensor registration and location sensing. There are several variations of TPWS systems and sensors available on RAV4 depending on where it was produced. Vehicles may have the ability to register 2 sets of tires. Systems with automatic sensor ID code registration and tire inflation pressure display will also have location sensing function, eliminating the need to relearn tire position after a tire rotation.
Vehicles with a full-size spare should have 5 sensors, and compact spare should have 4. Please refer to the repair manual and VIN inquiry for system specifics.
Automatic Sensor Registration
When driving the vehicle, G-sensor in the tire pressure sensor activates transmission of tire pressure sensor information. This information is then correlated with wheel speed sensor pulse signals to confirm sensor position.

During automatic sensor registration, ID is confirmed through receiving synchronization signals an average of 16 times to complete registration. Multiple confirmations are used to prevent incorrect registration.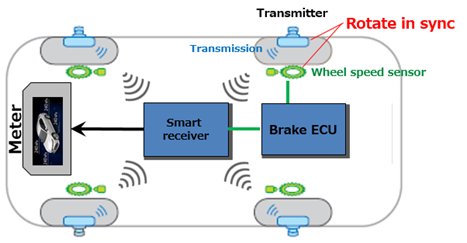 The tire pressure sensors transmission intervals change based on the G forces exerted on the sensors while driving. Transmission is low frequency (transmits every 96 seconds) while the vehicle is stopped and goes to a lower frequency (transmits every 150 seconds) when over 8G is applied (driving over 40 km/h (25 mph)) if the vehicle has not been stopped for at least 15 minutes before driving. The transmission frequency slows down when the vehicle is driving to conserve sensor battery life.
Transmission frequency will go to high frequency (transmits every 15 seconds for the first 24 signal transmissions) for registration if the vehicle is stopped for at least 15 minutes prior to sensor registration.

Since the transmissions from the tire pressure sensors must synchronize an average of 16 times, it can take a large amount of time to register the sensors if the vehicle is not stopped for at least 15 minutes prior to pressing the ID registration switch. When it is not practical to have the vehicle stopped for at least 15 minutes, a tire pressure sensor reading tool can activate the high frequency transmission.